Hello!!!
Mudra Birthday Celebration was really fun, thank you so much for the overwhelming response!!
We enjoyed watching you play all the games with so much enthusiasm..
I am here with most awaited winner announcement. But before that I have few announcements and news to share!!
The Happy news is Mudra Blog has been awarded and listed as Top 100 Card Making Blogs in Feedspot.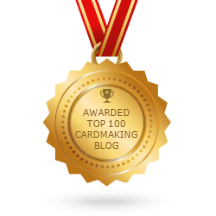 We are so excited to know that our dedication and hardwork we have given to this blog has got some recognition.. I thank all the past and present Creative Teamies, Guest Designers and Lovely Crafters who was the reason for this to happen!!!
And next, we have extended out Stamp Designer's Contest to 30th April. If anyone are interested to design for Mudra stamps even after the contest, feel free to write to us mudracraftstamps@gmail.com
STAMP DESIGNERS' CONTEST!!!

Calling all crafters with Illustration/Drawing or Graphic Design skills with an interest and creativity to design unique designs for Mudra stamps!
Topic: Floral, Pregnancy, Love, Sky, Object, Cute critters
Choose one topic and make your own concept stamp design set showing your style.
Do not submit more than two sets totally, so make the two the best of your creations.
Email to mudracraftstamps@gmail.com, with Subject as stamp design contest submission on or before April 30th 2017.
NOTE: None of your submission will be shared/used without your permission or credit!!
Artist: Draw in good black pen, Clear and crisp High Resolution scanned Images/ designs. Submission format: JPEG or PDF
Graphic Designers: Design in any vector based software
(Adobe Illustrator, Indesign etc.,)

Submission format: High Resolution JPEG or PDF
Winner gets an opportunity to get their designs released in Mudra stamps! Not just that and a good pay for the design.
NOW THE WINNERS FOR CROSS WORDS AND JIGSAW PUZZLE
SUMAN PANDIT wins stamping supplies from Mudra
Richa Maurya wins goodie bag from craftsneed.com
Vinita Jain wins stamping supplies from Mudra
Rishita Thomas wins goodie bag from Nakshatra papers
GLIMPSE OF THE WINNERS OF THE OTHERS FIRST BIRTHDAY SPECIALS
Sindhu won stamping supplies from Mudra
Sujana Rajan won goodie bag from The Craft Shop
Nandita won full set of new couture sequins from Mudra
Debadrita won Goodie Bag from Mudra
Congrats Winners of all the Mudra First Birthday Games, Contests & Giveaway!!! Thank you all lovely sponsors!!!
We are not having a April Release, So keep watching for May Release with some wonderful cute stamp sets!!
Do Participate in our current blog Challenge #8 - Masking. We are soon having a DT Call and Core Team call, so keep watching!!
Till that keep shopping our lovely stamps. SHOP HERE.
Hugs & Love,
Varshitha